Osazone test is performed to differentiate the reducing sugars on the basis of crystal formation.
REAGENTS:
1. Phenylhydrazine mixture consisting of:
i. Phenylhydrazine, and
ii. Anhydrous sodium acetate.
2. Original solution (0.8.) – containing a carbohydrate
PRINCIPLE:
Aldehyde or keto group containing sugars reacts with the amine group of phenylhydrazine to give phenylosazone.
PROCEDURE:
Take phenylhydrazine mixture and till about half an inch of the test tube with it.
Add 3 to 5ml of sugar solution (original solution) to the test tube.
Mix thoroughly and place it in a boiling water bath.
Note the appearance of a yellow crystalline precipitate in the test tube.
Remove and allow the test tube to cool slowly.
Do not cool the test tube under tap water.
Examine the crystals under the microscope and make a drawing.
Draw only what you see.
NOTE:
Osazones of glucose are formed in 10-15 minutes whereas those of disaccharides take up to 45 minutes. Sucrose does not react with phenylhydrazine to form crystalline compounds called osazones.
Observation and Result:
| | | |
| --- | --- | --- |
| SUGAR |  OSAZONE |  SHAPE |
|  Glucose |   Glucosazone |  Needle-shaped |
|  Fructose |   Fructosazone |  Needle-shaped |
|  Galactose |  Galactosazone |  Fluffy ball shaped |
|  Lactose |   Lactosazone |  Fluffy ball shaped |
|  Maltose |   Maltosazone |  Sunflower shaped |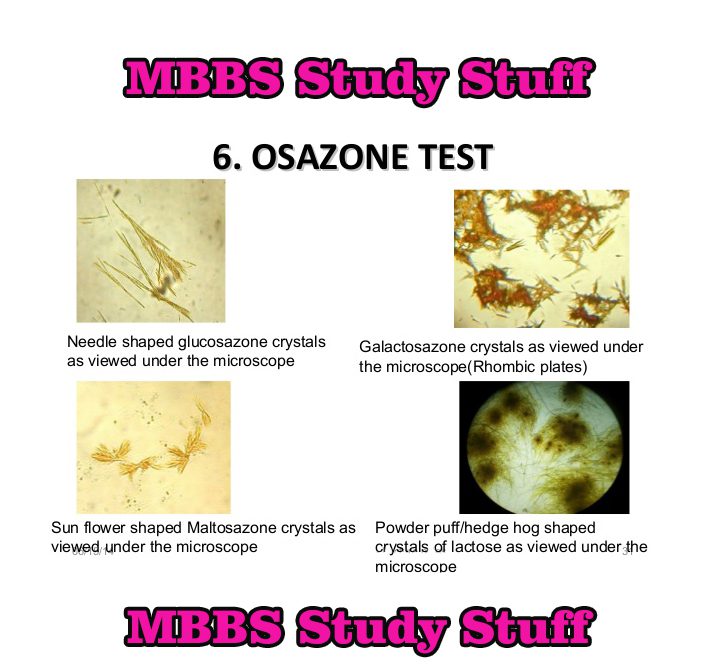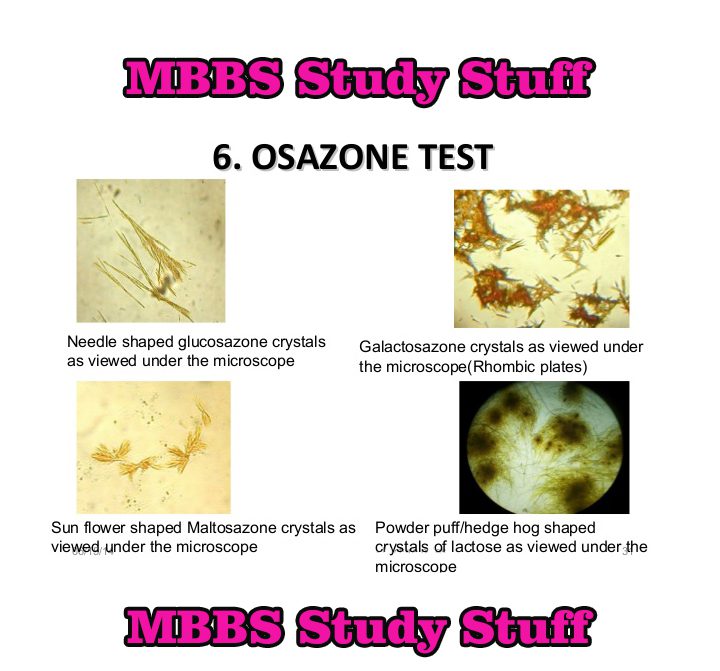 Precautions:
Wash the apparatus before and after the experiment.
Carefully Observe the Crystals under the microscope.
Carefully handle all the chemicals.