Urease test for Urea:
So the urease test for Urea is a specific test for the detection of urea in urine.
Urease test principle:
Urea is a diamide of carbonic acid. Urea is hydrolyzed with the release of ammonia and carbon dioxide.
Many organisms especially have an urease enzyme which can split urea in the presence of water to release ammonia and carbon dioxide. The ammonia combines with carbon dioxide and water to form ammonium carbonate which turns the medium alkaline, turning the indicator phenol red from its original orange yellow color to bright pink or red.
Reagents:
Phenol red
Urease solution
Procedure:
Take 2 ml of urine in a test tube.
Add 2 drops of phenol red in it.
And 1 ml of urease solution.
Mix well.
Now incubate it for 15 minutes at 37 ºC.
Observation:
The solution turns red due to the conversion of urea into ammonia.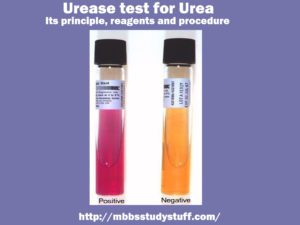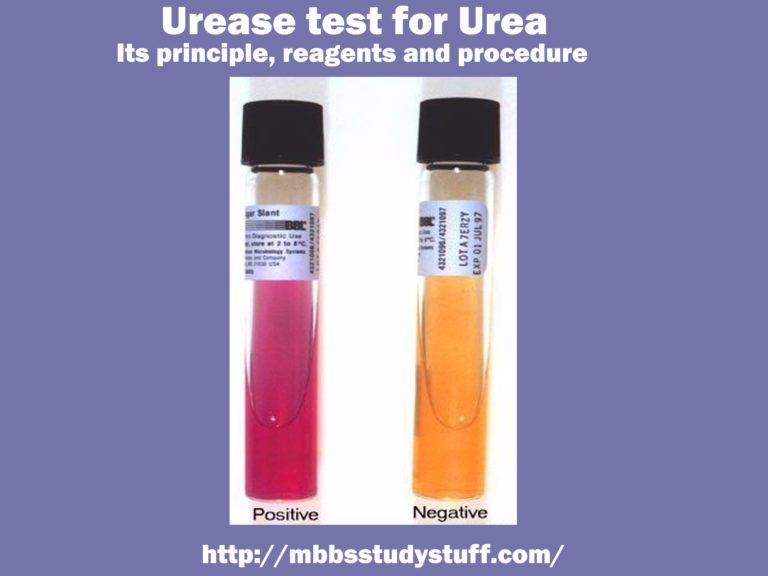 Precautions:
Follow the below steps for a better result.
Wash the apparatus before and after the experiment.
Carefully handle all the chemicals in the lab.
Avoid urine touching with hands.
Use forks for holding test tube.
The test tube used should be clean neatly and free of any dirt and chemicals because we will not get the proper result then, so try to use a clean and clear test tube for a correct result.