Pathology of Acute Appendicitis – Its Etiology, Morphology, Gross Appearance & Microscopic view
Aims of the Practical
Pathological Process: Acute Inflammation
Model : Appendix
Specimen Provided : Acute Appendicitis Slide
What is Acute Appendicitis?
Histopathological Definition
Acute Appendicitis is defined as an acute inflammation of the inner lining (glandular epithelium) of the vermiform appendix that spreads to its other layers
Who gets it?
1.Mostly young people (age 10-20) but can present at any age
2.M>F : (1.4:1)
3.A common surgical disease : 7-9% lifetime risk
How does Acute Appendicitis Develop ?
Obstruction of opening
Distention
Perforation
Cyclic Changes Causing Appendicitis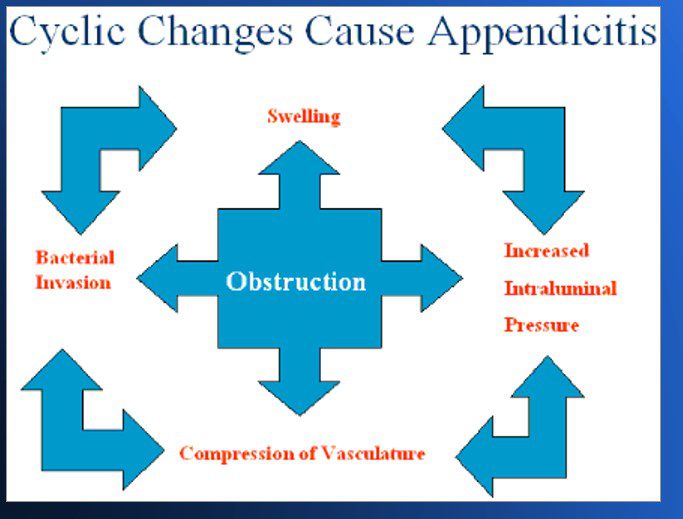 Pictorial Explanation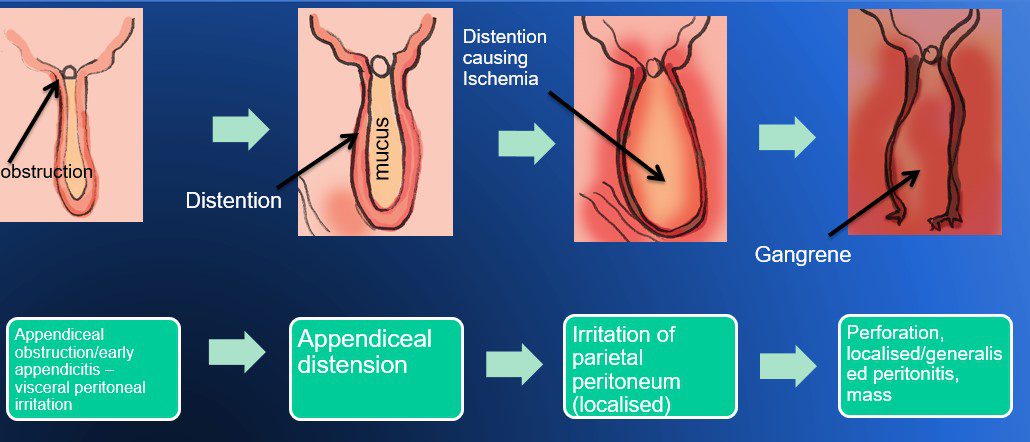 Etiology
1.Fecalith
2.Gallstone
3.Ball of Intestinal Worms
4.Tumors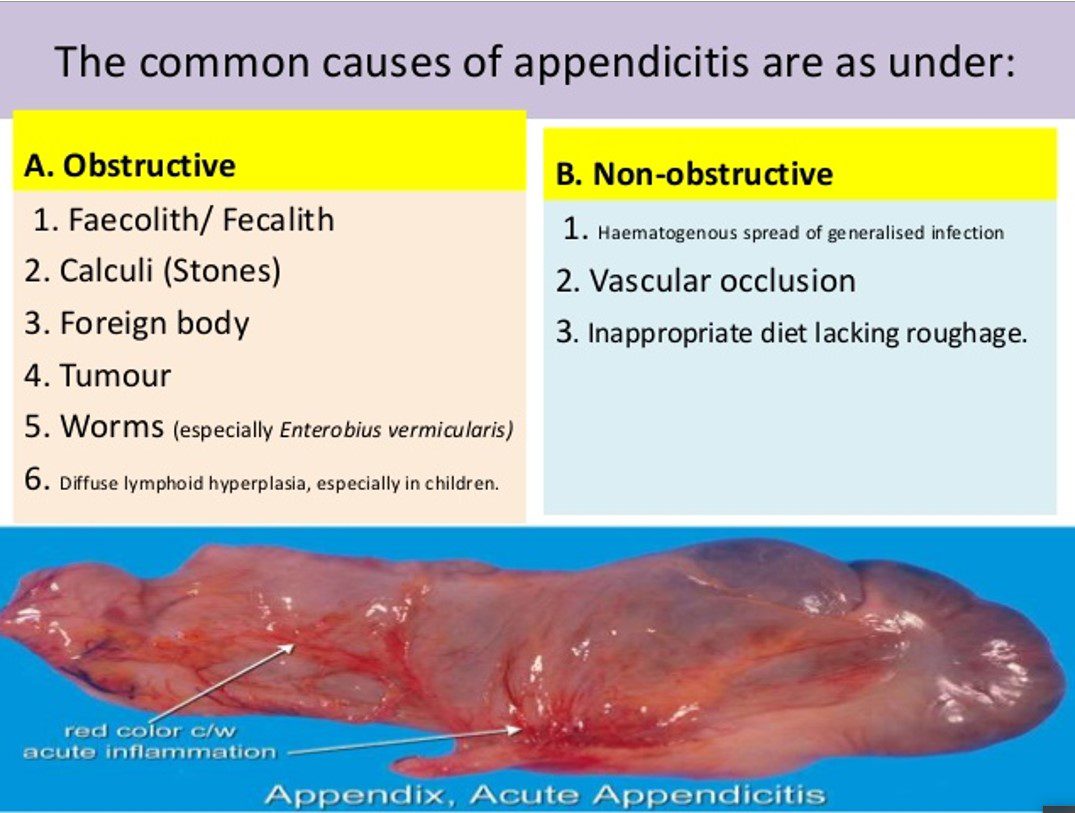 "Typical" Presentation
Dull, crampy central abdominal pain
Malaise/vomiting/anorexia/low grade fevers
Pain worsens & localises to RIF with cough/movement tenderness
Systemic symptoms
Morphology
Normal Vermiform Appendix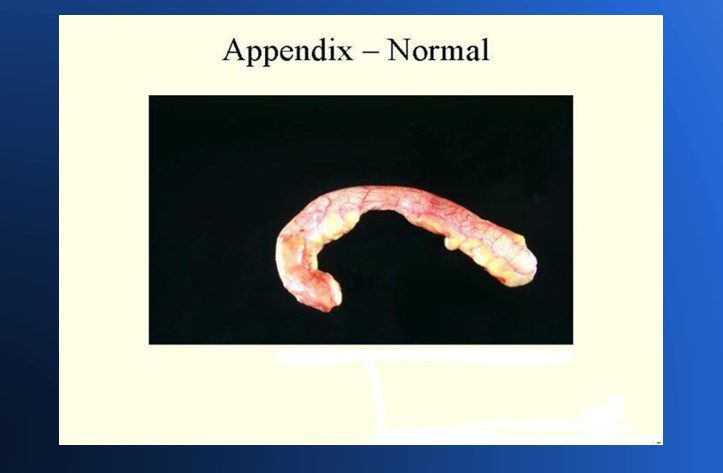 Gross Pathology
Grossly inflamed, swollen & red.
Prominent vessels visible on the surface
May be covered by phlegmatic eroded tissue


Acutely Inflamed Appendix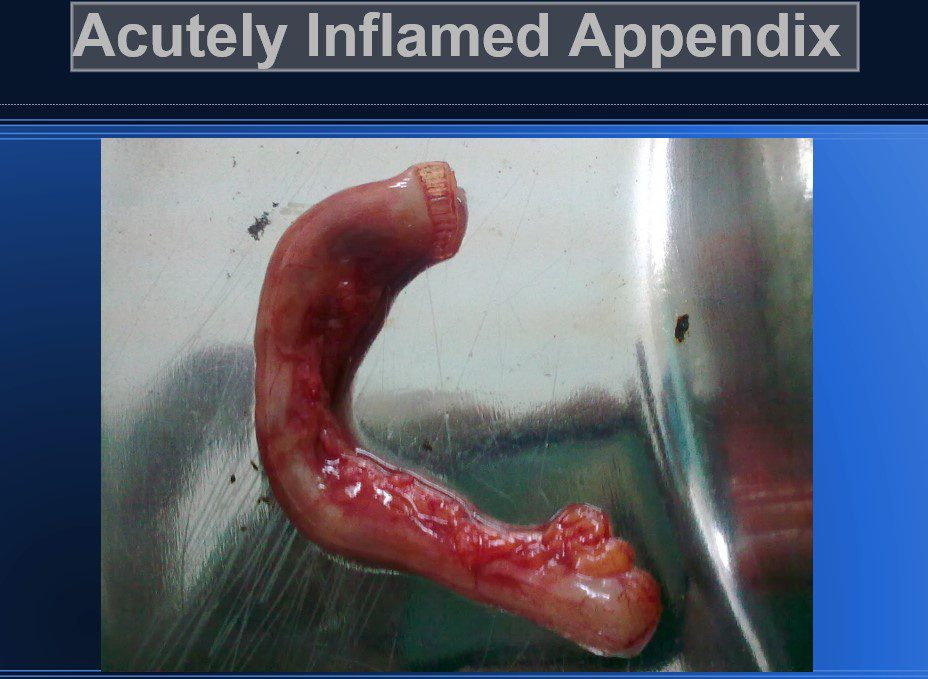 Gangrenous Appendix ( a )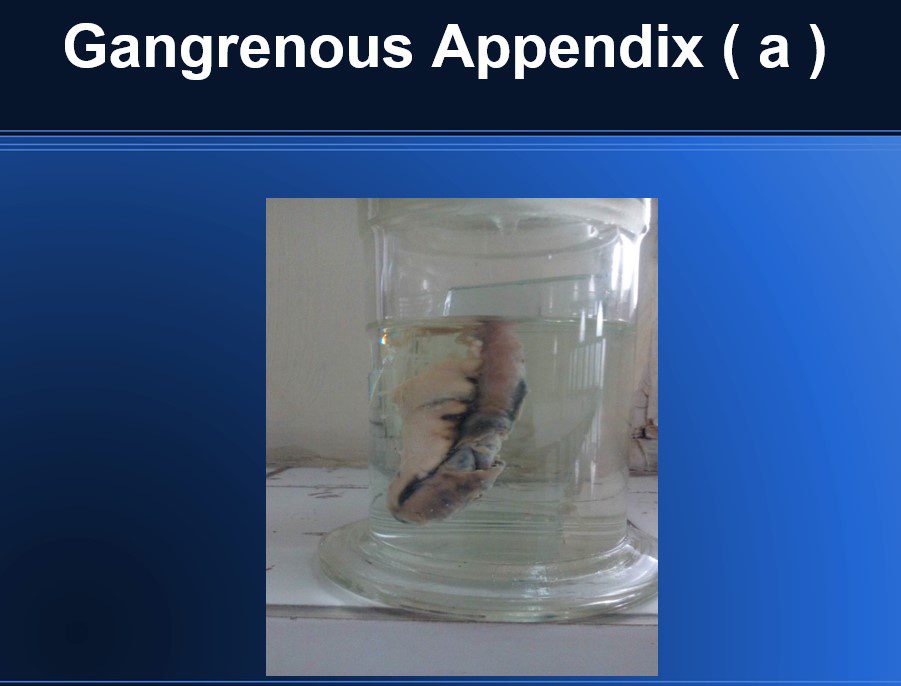 Microscopic Appearance
Normal Appendix Histology
Similar histologically to the rest of the colon.
Few differences which make the appendix identifiable.
Shorter glands (and no villi – like the colon)
Large lymphoid nodules deep to the outer muscular wall
Absence of the tenia coli

Histology Normal Appendix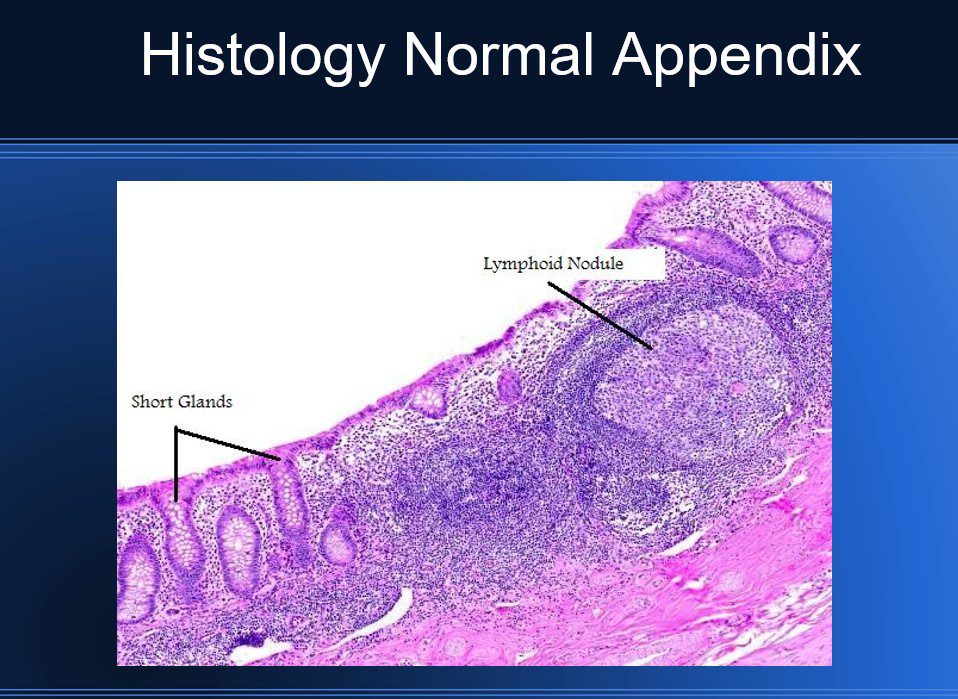 Normal Appendix Histology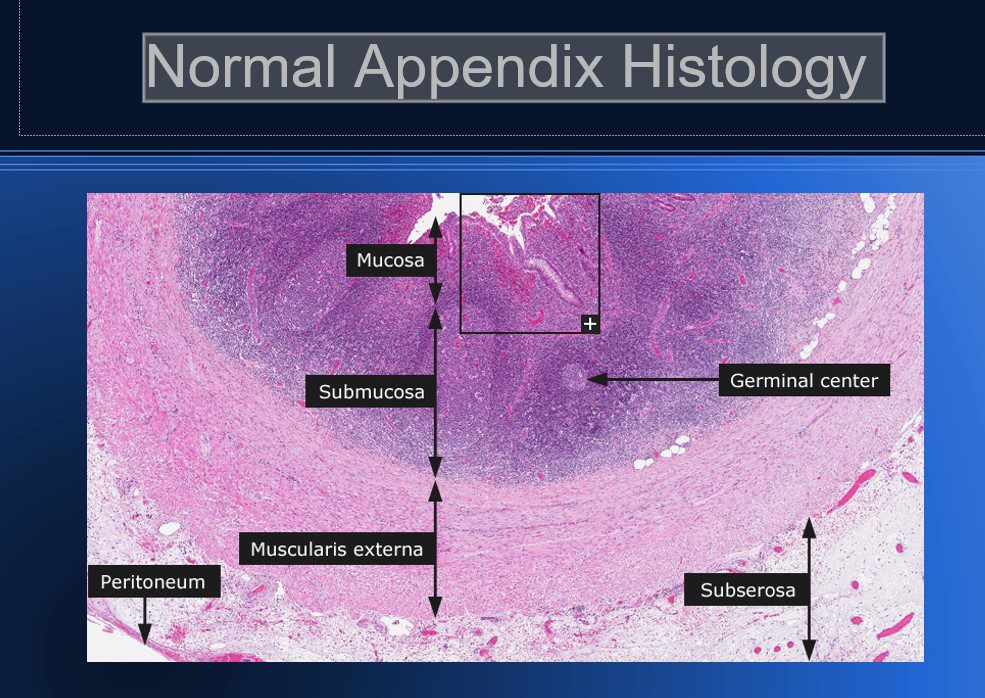 Histology Normal Appendix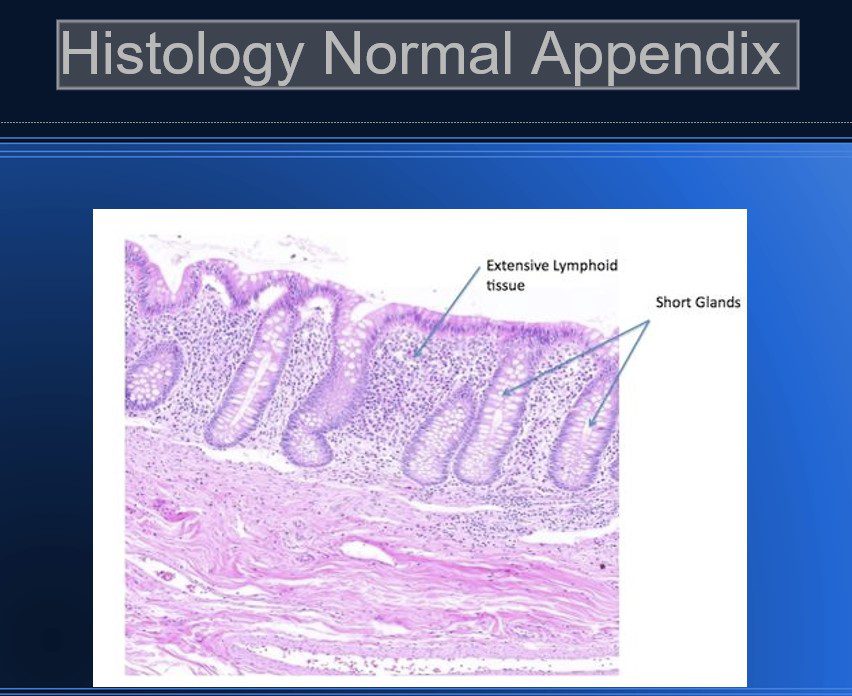 Histology of Normal Appendix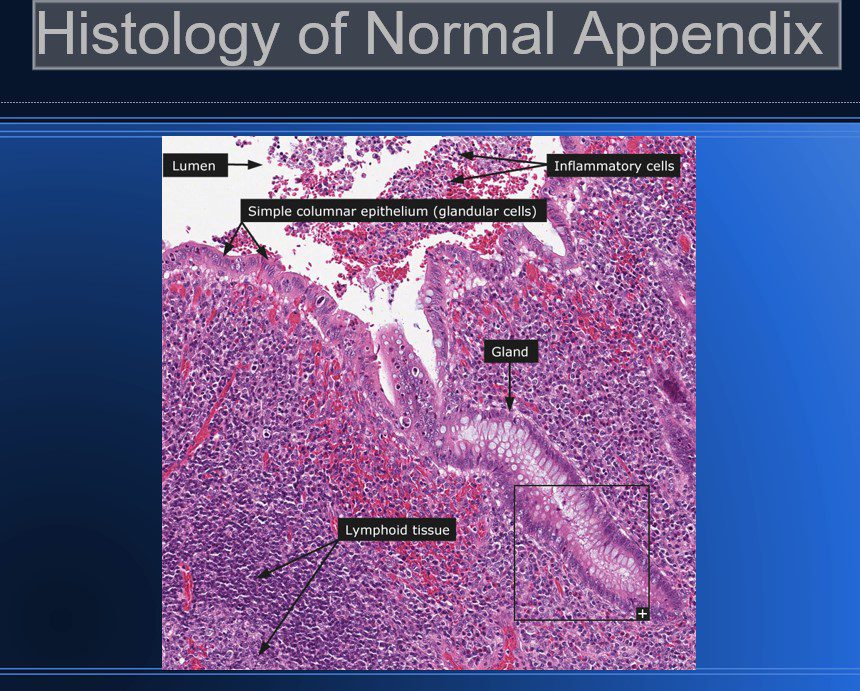 Microscopy of Acute Appendicitis
Infiltration of PMN Cells in mucosa Infiltrating into muscularis
Splitting of muscularis due to edema
Edema of all layers
Ulceration of outer layers
Vasodilation
Perivascular infiltration of inflammatory cells
Intraluminal inflammatory exudates
Identification Points
Presence of acute inflammatory cells
( Eosinophils and polymorphonuclear   Neutrophils )
Separation of muscles fibers due to edema
Loss of mucosal lining due to bacterial overgrowth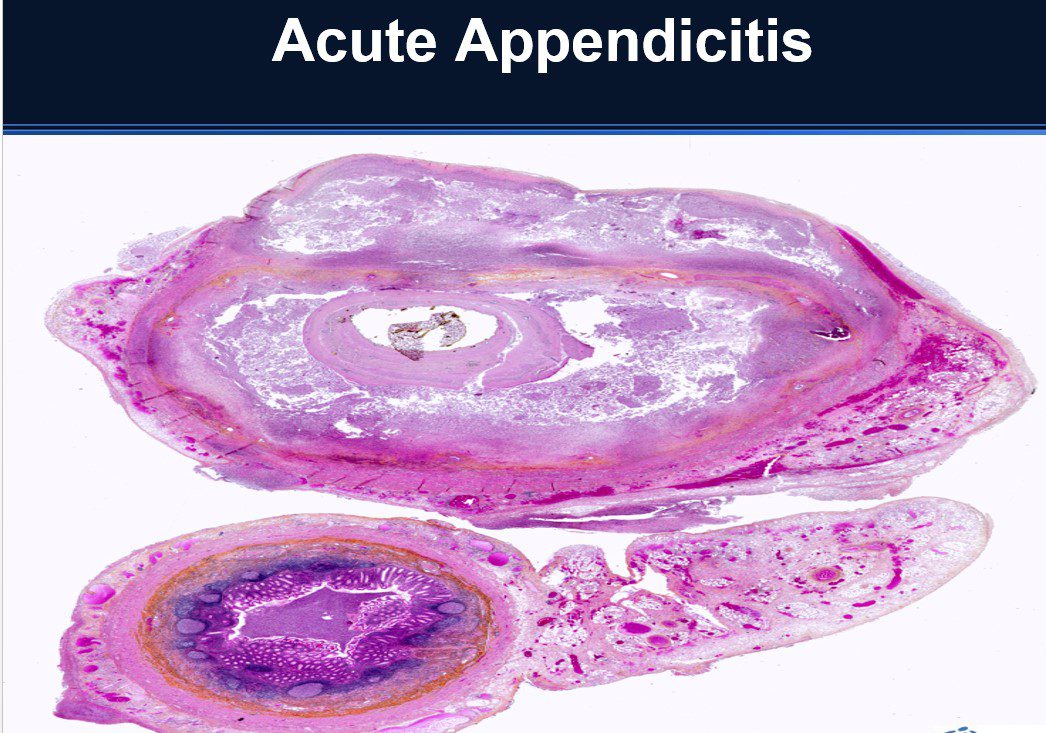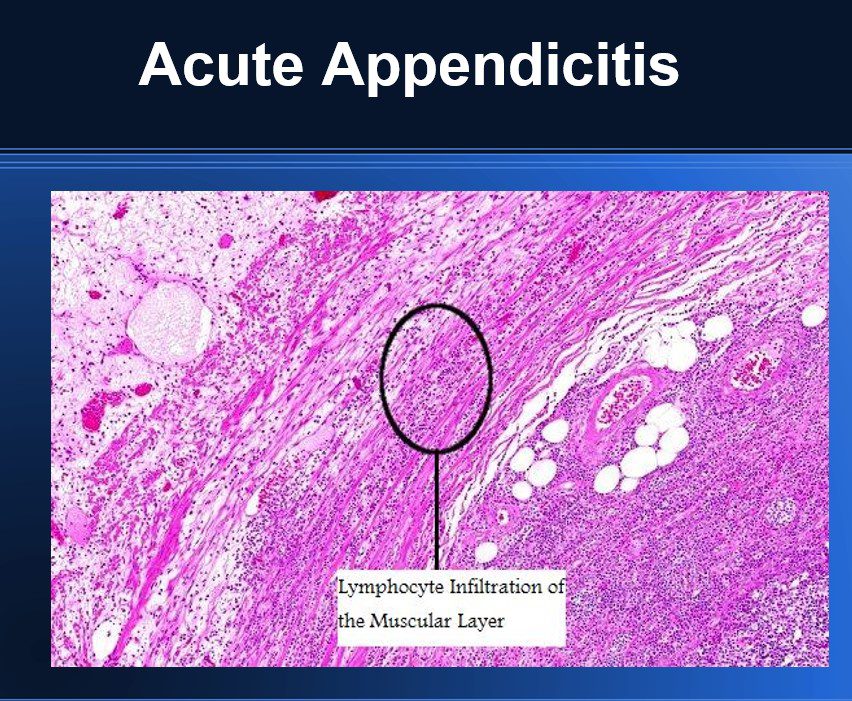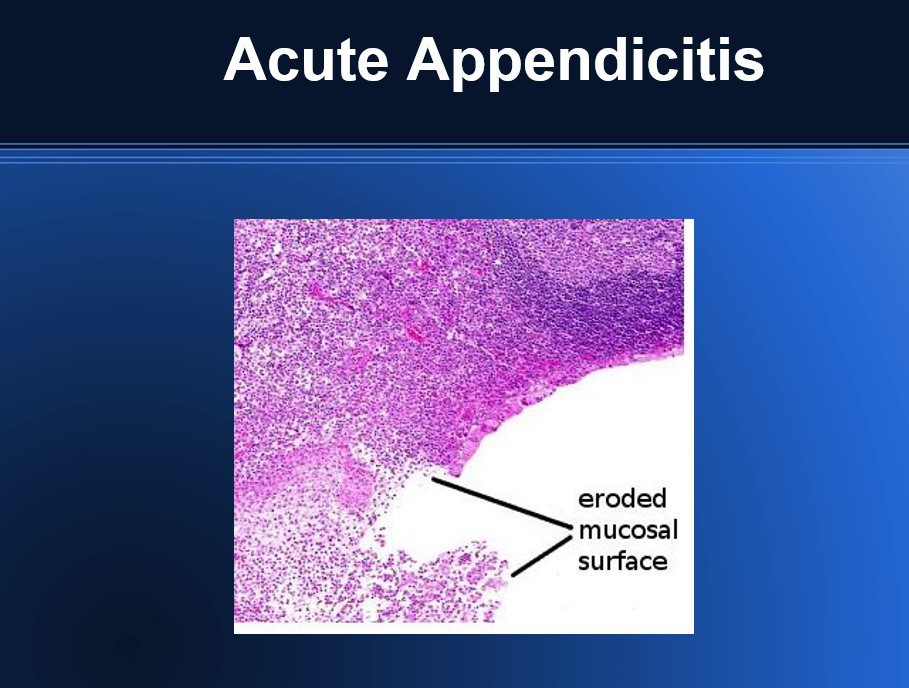 Summary
A common surgical emergency with high mortality if not treated well in time
Any pain in RIF should be thoroughly investigated
One of the commonest reason of Acute Abdomen
If you have any question regarding acute appendicitis, write it in the below comment box.