What is Protein Biuret test:
Protein Biuret test is given by all substances containing two or more peptide linkages i.e. proteins and their hydrolytic products (proteases and Peptones). Dipeptides and amino acids do not give this reaction. The name "Biuret" was given to a compound Which was produced after urea was heated at 180°C. This compound on reaction With the dilute solution of copper sulphate gave a violet colour. Both biuret and peptides contain -CONH- (peptide linkages) and give positive biuret reaction, though biuret is not a protein in nature.
Significance:
This test is used for the detection of all proteins and peptide linkage.
REAGENTS:
PRINCIPLE:
In the presence of alkaline medium, cupric ions given by cuso4 reacts with peptide linkage to form the bluish-violet coloured complex. The peptide nitrogen atoms form a coordination complex with the cupric ions. The intensity of colour depends upon the amount of protein present in the solution.
PROCEDURE:
Take 2 ml of original solution (protein solution) in a test tube.
Add 2 drops of 2% copper sulphate solution.
And 1 ml of 5% sodium hydroxide solution.
Mix thoroughly.
OBSERVATION AND RESULT:
A violet colour is produced with proteins, a bluish violet colour with gelatin, whereas peptones will give a pink colour.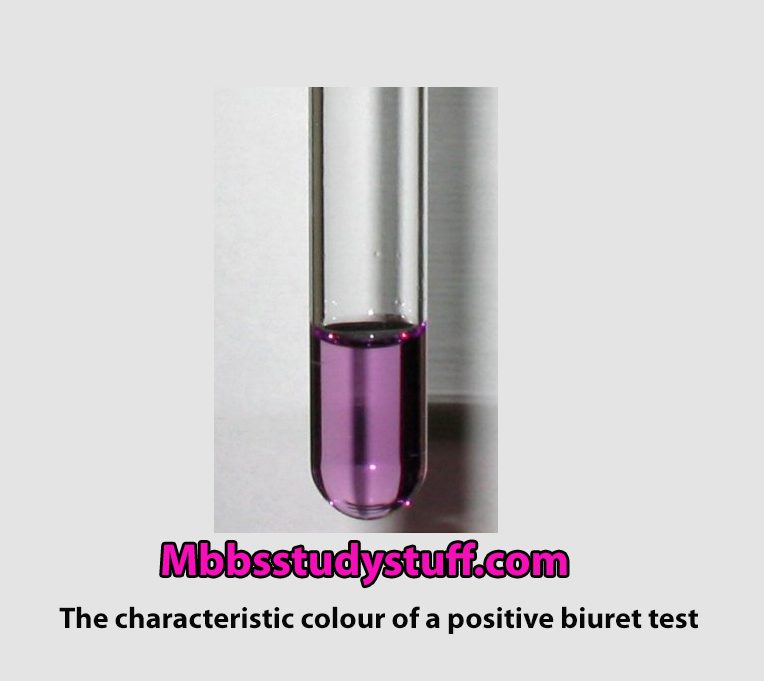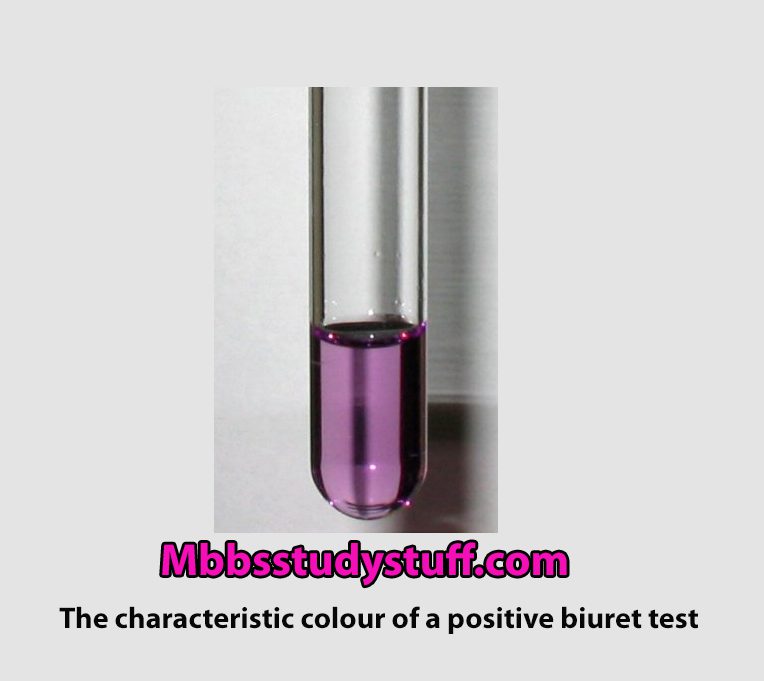 Interference:
Proteins are present in solution.
Precautions:
Wash the apparatus before and after the experiment.
Carefully handle all the chemicals.
Important Questions About Protein Biuret test:
1. What is Biuret?
Answer. Two molecules of urea on heating at 180°C, produce a compound called "Biuret".
2. What is the importance of biuret test?
Answer. Biuret test is performed to detect the presence of peptide linkages in a solution.
3. What is the minimum number of peptide linkages required for a biuret test to be positive (positive biuret test)?
Answer. A minimum of two peptide linkages must be present to give a positive biuret test.
4. What is a peptide linkage?
Answer. It is the linkage established between alpha (a- NH2) group of one amino acid with alpha carboxyl (a -COOH) group of another amino acid, with the removal of 1 molecule of water.