Brachial plexus:
Formed by
Anterior Primary Rami of Spinal nerves C5 C6 C7
C8&T1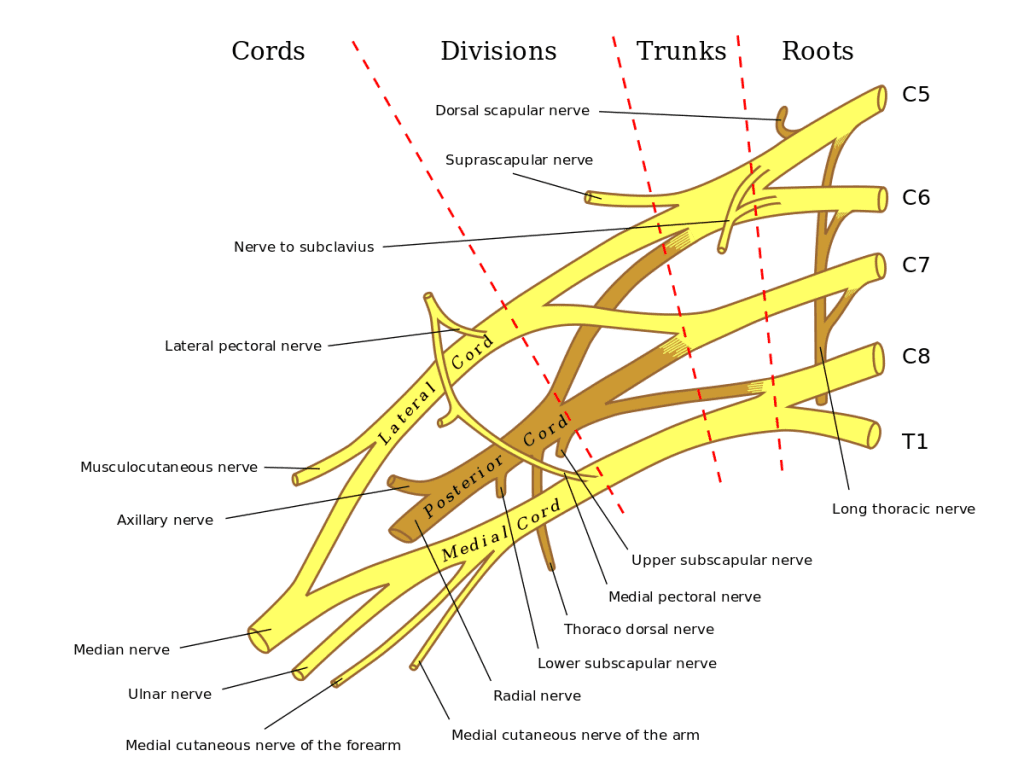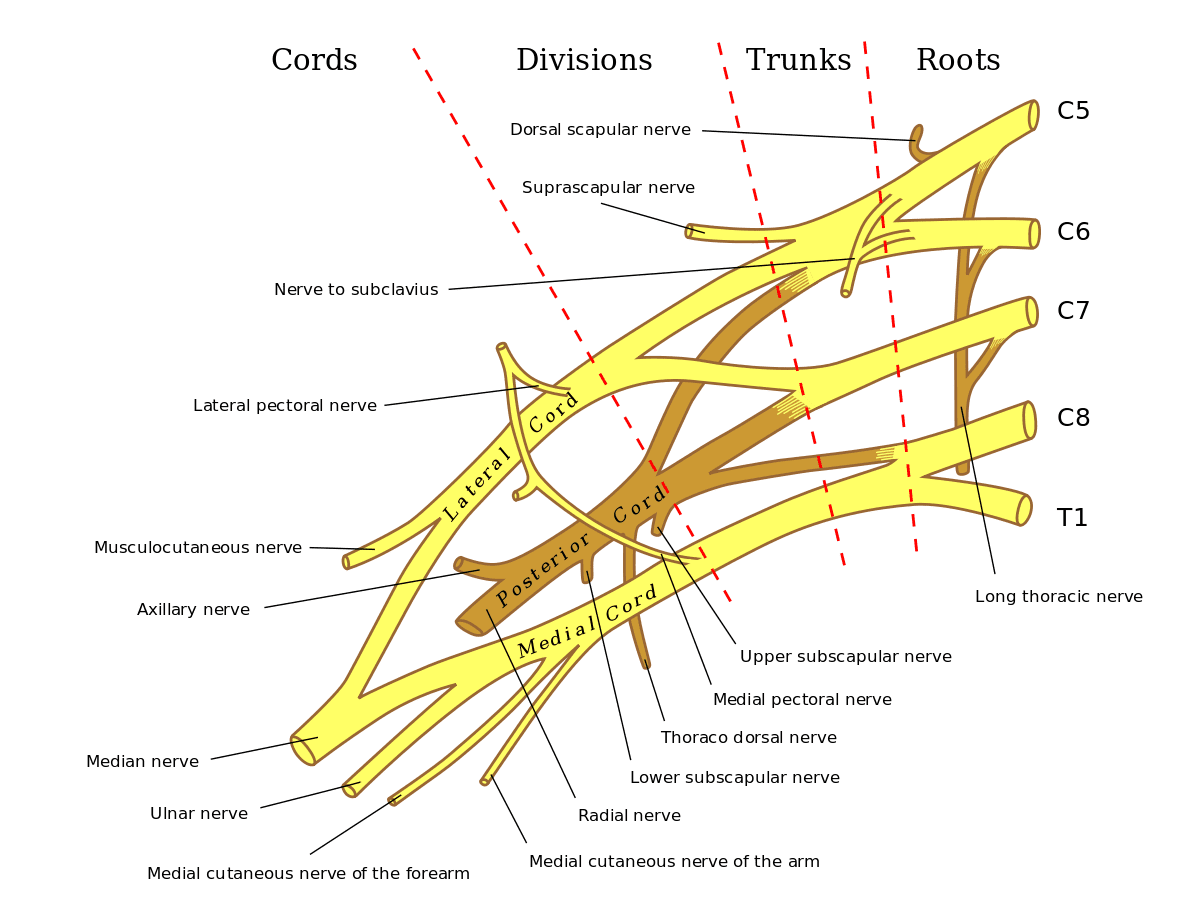 Brachial Plexus consists of:
Roots
Trunks
Divisions
Cords
a). Roots
Formed by ant, primary rami of C5 C6 C7 C8 T1
b). Trunks
i. Upper trunk formed by union of C5&C6
ii. Middle Trunk formed by C7
iii. Lower Trunk formed by union of C8&T1
c). Divisions
Each trunk divides into
Anterior(ventral)division.
Posterior(Dorsal) Division.
d). Cords
i.Lateral Cod: Union of anterior division of Upper & Middle trunk
ii. Medial cord: Anterior division of lower trunk
iii. Posterior Cord: Union of posterior division of all three trunks.
BRANCHES OF BRACHIAL PLEXUS:
Branches of the Root:
Long Thoracic nerve (nerve to serratus anterior) C5 C6 C7
2, Dorsal Scapular nerve (to rhomboids ) C5
Branches of Upper Trunk:
Suprascapular nerve (to supra & infra spinatus) C5 C6
Nerve to Subclavius C5 C6 (gives accessory phrenic nerve)
Branches of Lateral Cord: (2LM)
1.Lateral pectoral nerve (C5 C6 C7)
2.Musculocutaneous nerve (C5 C6 C7)
3.Lateral root of median nerve (C5 C6 C7)
Branches of Medial Cord: (4MU)
1.Medial Pectoral nerve (C8 T1)
2. Medial Cutaneous nerve of arm (C8 T1)
(joined by Intercostobrachial nerve)
Medial Cutaneous nerve of forearm (C8 T1).
Ulnar nerve (C7 C8 T1)
Medial root of median nerve (C8 T1)
Branches of Posterior Cord: (UTLAR)
Upper subscapular(C5 C6)
Thoracodorsal nerve (nerve to latissimus dorsi) C6 C7 C8
Lower subscapular nerve (C5 C6)
Axillary nerve (C5 C6)
Radial nerve (C5 C6 C7 C8 T1)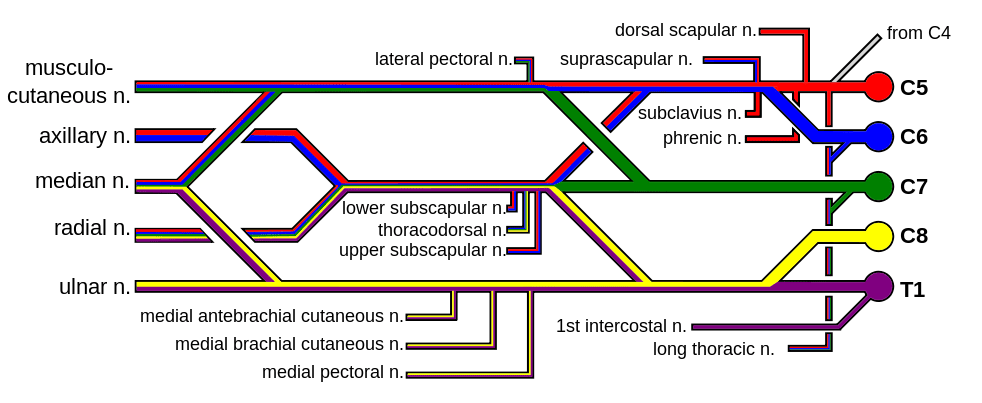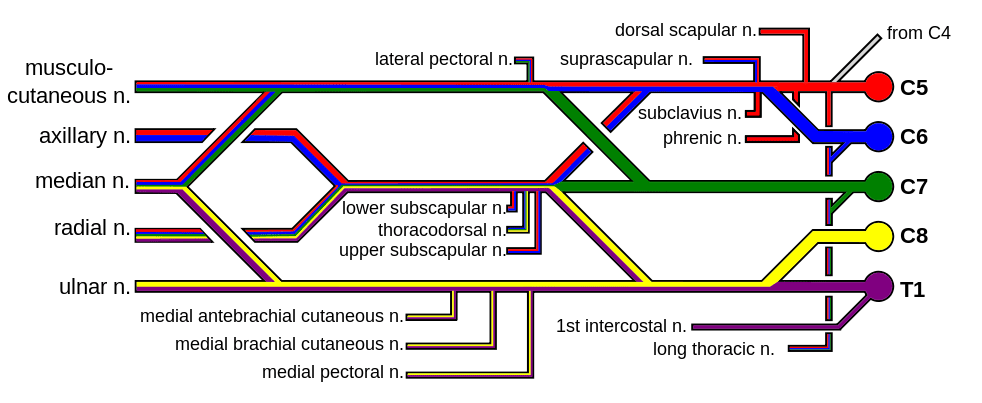 VARIATIONS OF BRACHIAL PLEXUS
Pre-fixed brachial plexus:
* When superior most (ant, Ramus is C4) & intetior most is C8,
Post-fixed brachial plexus:
* When superior most (ant. Ramus is C6) & interior most is T2.
BRACHIAL PLEXUS INJURIES
Injuries to the brachial plexus affects movement (cause paralysis) & cutaneous sensations (cause anaesthesia)
Causes:
* Disease, stretching & wounds in the lateral cervical region (posterior triangle of neck) or in the axilla.
* Also in newborn due to excessive stretching of neck during delivery
* Usually results from an excessive increase in the angle between neck & shoulder for e.g. when a person thrown from motorcycle or a horse.
INJURIES TO SUPERIOR PART OF PLEXUS
C5, C6 involved
Also known as Erb's Duchene paralysis
Muscles supplied by C5 & C6 are usually involved like deltoid, biceps, brachialis, brachio-radialis,
Loss of sensation on the lateral aspect of upper limb
WAITER's TIP (POLICEMAN's TIP) position
BACKPACKER'S PALSY
Superior plexus injury in hikers-muscle Spasms & severe disability.